Cicada 3301 2016 Puzzle
Cicada's Twitter Account: https://twitter.com/1231507051321
Cicada twitter posted https://twitter.com/1231507051321/status/684596461628223488 which leads to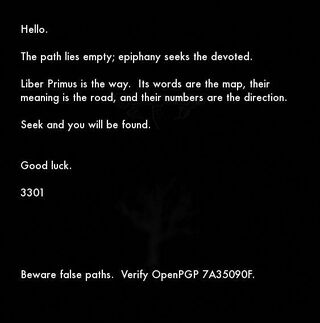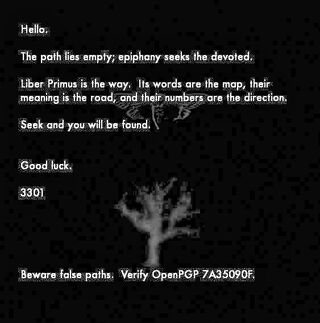 Important note: What was believed to be a "dendrite" is actually an oak tree, as revealed by a Google search for "dead oak tree clipart". (http://www.clipartbest.com/cliparts/abc/y97/abcy97qTL.jpeg)
Please note, the blocks in the background are noise from the image compression, not a QR code.

The image size is 563 x 569 (both primes).
The following test is produced by running Outguess:

Likely only clue in message = 'numbers are the direction.' but this is still possible just 3301 way of speaking and not a clue.
If you verify the PGP key using GPG you get:
gpg: Signature made Thu 31 Dec 2015 07:01:07 PM EST using RSA key ID 7A35090F

gpg: Good signature from "Cicada 3301 (845145127)"

gpg: WARNING: This key is not certified with a trusted signature!

gpg:          There is no indication that the signature belongs to the owner.

Primary key fingerprint: 6D85 4CD7 9333 22A6 01C3  286D 181F 01E5 7A35 090F